Dallas – Day Seven
Today, we visited the Texas State Fair, which is (I think) the second biggest state fair in America. So it's a big deal.
In some ways, it reminded me of the Oktoberfest in Munich, in that it is a local funfair for local people, unlike Disneyland which is very glossy, and pretty much geared towards tourists. And the fair had something for everyone – there was a car show with some nice shiny toys to drool over, lots of home improvement stalls for people who like that sort of thing, crazy rides and games, animals, and a lot of food.
The thing that surprised me most was the amount of frying going on – fried butter, fried peaches and cream, fried cheesecake, fried pecan pie, and even good old fried snickers. Now I don't object to any of those things, having enjoyed a battered Mars bar or two myself, but I was surprised at the sheer variety and enthusiasm of the frying going on.
I'll also add at this point that I didn't indulge too badly – I had a corn on the cob, some fried pork chips (nominated for a taste award), and a funnel cake (a local delicacy it seems – very nice – quite doughnut-ish).
The wierdest point of the Fair was without doubt the "Dancing with the Dogs" show, a demonstration of "the fastest growing sport in America – canine freestyling". Yes, that was a real quote – she did say sport. No, I am not making this up! Look!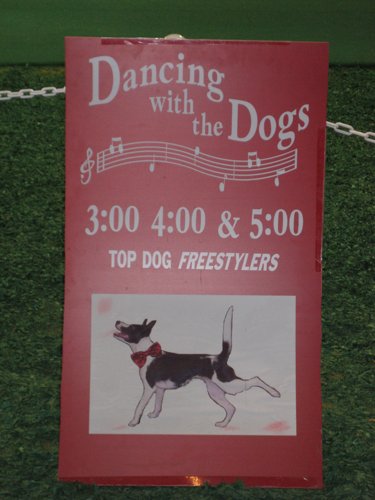 We only stayed for a couple of the performers. The dogs were completely cool, but I couldn't deal with their dancing partners. I was also a bit disappointed that we'd missed the pig racing (yes, really). But the chance to sit down for a few minutes was great.
And there were some real cowboys at the fair too, wearing their cowboy hats in a completely non-ironic way.
Unfortunately, just as we were deciding to leave, it started to rain heavily. A coat and umbrella from my rucksack sorted us out, so we were okay, but there were a lot of very wet people out there, and it was a bit horrible for a while.
But I really enjoyed the fair. It was an unmissable slice of American (perhaps Texan) life, and I'm gad the hotel receptionist recommended it.
Tags: Travel