Tokyo Day 5 – The day on tv
Yesterday (Saturday), I didn't leave the house, and spent most of the day watching the news on television. The choices were a little tricky – we could watch local television which was in Japanese and therefore really hard to follow, watch BBC World which was in English and easy to follow, but a bit out of date compared to the Japanese, or watch CNN, which made me want to rant about how stupid it was.
So let's start by getting that off my chest. There's one quite good guy on CNN, who shows the wind direction around Japan for nuclear fallout – he knows what he is talking about, and he's quite helpful. But at other times it was completely moronic. They put some quack on who said that recent events had revealed how resilient people were, and how much they could deal with. What kind of recent events? The first world war? The eruption of Krakatoa? The great fire of London? She was a complete muppet. Then we had the surprise news that America had not been asked to lead the relief effort. It really was reported as news that the Japanese government was running the relief and rescue operations. Of course they are!! This isn't Haiti!! The final straw was last night where the screen banner said "Breaking News: Glued to tv by striking images". It's not news that people are watching tv! People watch tv all the time! It's just pathetic. Anyway, rant over. Suffice to say that CNN doesn't impress, despite their very slick and glossy presentation, because every so often they make me want to throw things at the television.
Next let's talk about the BBC. The BBC is of course what I am familiar with, and therefore it brings comfort. I was really surprised to see that it is what was showing in Marty's building, when he works for an American company. But the BBC has the advantage of being calm, rather than trying to create panic, and was sometimes streaming the Japanese channels, with a translation, so it was up to date. But as time has passed, it has become less useful, as the coverage has become less timely. Also an issue is that BBC World has reverted back to scheduled programming, so yesterday they were showing programmes about tourism in Turkey and safaris in Africa. There's a certain comfort in knowing that the world news agenda has moved in, and other stories are creeping back, but we still kind of want to know what's going on here.
So what about the Japanese media. Well, it is different to ours. The news presentation is much, much less slick. Where CNN and the Beeb have fancy computer graphics for maps and diagrams, the Japanese have pictures on bits of card to hold up. And even after 24 hours, the Japanese presenters are much less confident, sometimes even flustered. I know this is probably because people are constantly firing bits of paper at them, and they can't use the autocue, but sometimes it has looked a bit like the placement students have been put in charge. Especially the guy with the tie hanging off him (I reckoned his wife would kill him when she saw him). And don't get me started on the experts and managers who were doing live press conferences – some of them were just terrible. One guy had a dozen microphones, but still couldn't speak clearly enough to be heard. And didn't realise there was writing on the back of his page. They moved to other speakers at that press conference, one of which just didn't say anything, and another who mainly said Oooh and Ahh. I know I don't speak Japanese, but it was fascinatingly unprofessional, and not at all what we would get in the UK.
Another difference in the presentation style was that all of those experts giving press conferences were wearing properly technical looking uniforms, which does inspire confidence that these are people who know what they're talking about (when they manage to talk), instead of just putting suits in front of the camera like we would.
But the best part was the television presenters wearing helmets in case the studio roof came down.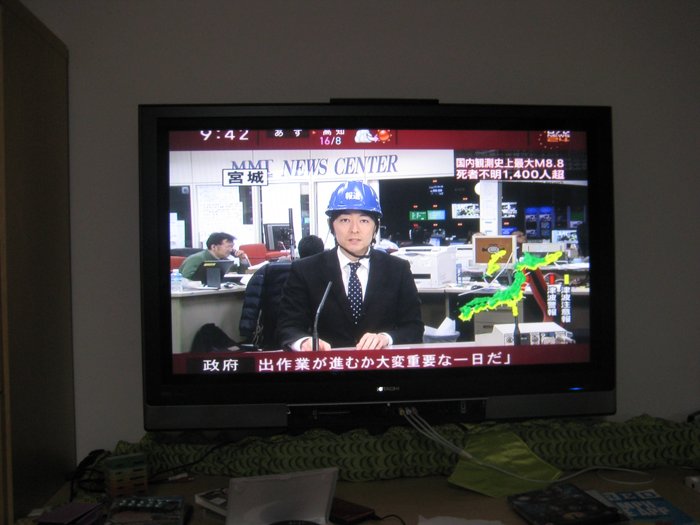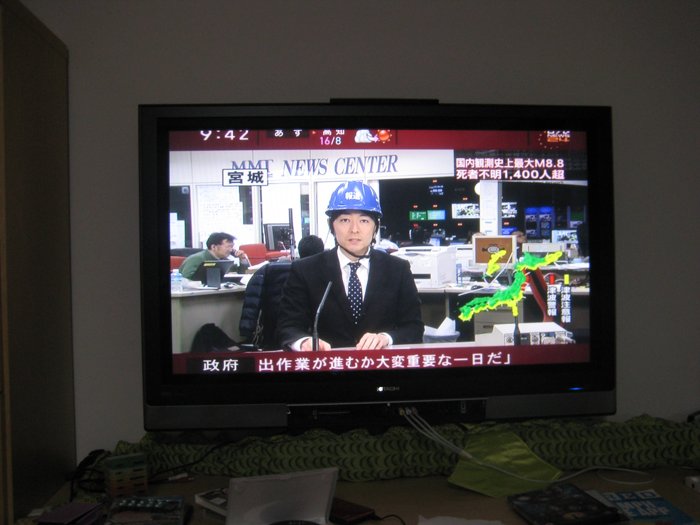 This was last night. They were still at it today.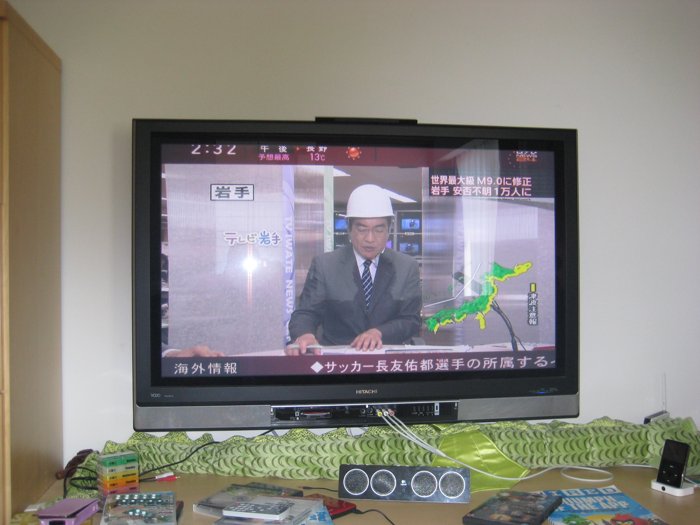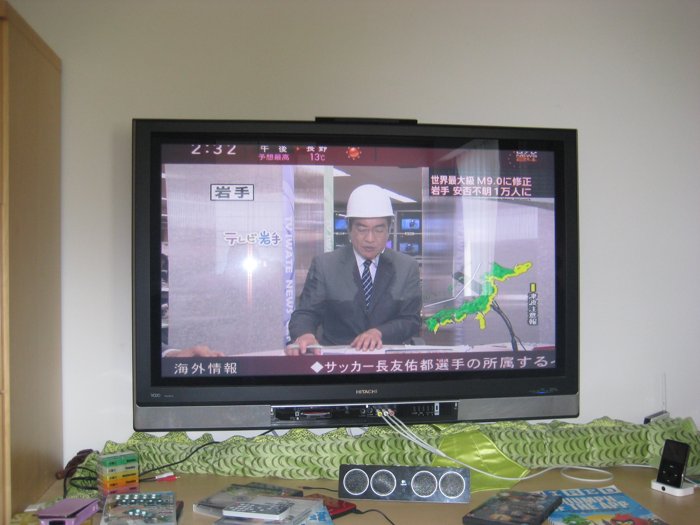 This I do find interesting. If BBC newsreaders were wearing safety helmets, viewers would assume the world was ending. In fact, they'd assume the world had already ended. Here, it's seen as a perfectly reasonable precaution in case the roof comes down. It's also interesting that some people in the studio are wearing them, while others are not. Maybe people sitting in different places at different levels of risk depending on what's above their heads.
But ultimately, we had to turn the news off, and watch something else instead. As human beings, we can only take so much relentless bad news, especially when there's no new information, just an endless re-stating of what has already happened (the earthquake and tsunami), and what might happen (the reactor problems). I have to admit that we watched Glee and the Big Bang Theory, and felt a whole lot better.
Tags: Earthquake, Tokyo, Travel