Barcelona Day 4
For my last full day in Barcelona, I decided that I had done enough walking, and went on a bus tour instead. Had pasta for late breakfast at the station, then over the road to the bus stop for the tour buses. The system is quite good – they have 3 different routes, and you can not only hop on and off to change buses, but can also change routes to go and do a different tour.
So off I headed on the red route. The rain wasn't heavy, so I sat upstairs in the open air, on the basis that sitting in the drizzle was still better than walking in it. The red route took me round many of the places I had already walked, but it was nice to get the commentary and find out a little more about them. Though the bus had fundamental problems when the rain got heavier and I had to go downstairs – the windows were covered in adverts for the bus, and you couldn't actually see the sights through them! When we got to the big square in the middle of the city, I shifted onto the blue route, which took me up towards Tibidabo. This is the hill I could see in the distance from my hotel room, with the huge telecoms mast and cathedral (there's a picture back here).
Once I got there, there was a tram, and then a funicular railway to get to the top, but that involved a lot of tiresome waiting, and the rain had stopped, so I set off walking instead. That started off well, but I ended up climbing up a mountain bike trail rather than a walking path. But nonethess, I got to the top eventually, after a climb of 3.5 miles (according to my fathful GPS tracking phone).
The cathedral at the top doesn't get a lot of respect because of Gaudi's masterpiece down in the city, but I still thought it was rather splendid.
At this point, you are quite high up, and there's a great view of the city. But there is a lift to take you you to the roof of the cathedral, and then some more stairs that take you to here.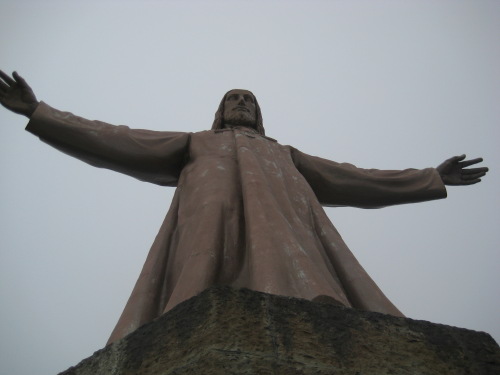 As you can imagine from here, at Jesus feet, you're a long way up! Unfortunately, it was a bit hazy up there (probably inside a cloud), so the pictures of the city aren't really clear enough to show much, but it was a magnificent view, and it's worth a visit.
I got the funicular back down the hill and got back on a tour bus for the rest of my jaunt round the city, then closed off my evening with dinner in a nice restaurant near La Rambla (though ending with a disappointing creme brulee, so I had to go and get an ice cream to have a satisfactory ending to my day).
Tags: Holiday