The bicycle quest
I've been riding my bike to work for quite a while now. Ever since I started working for BT lots of years ago, I've walked to work. But last year I worked out that cycling wasn't that scary, it got me into work a whole lot quicker, it's kind of fun, and it's a bit healthy.
So I have been riding my mountain bike into work. That bike is 6 or 7 years old,  it's got over five and a half thousand miles on it, and it's showing its age a bit. So I decided it was time to upgrade and get a new bike. Since my last bike cost me about 150 quid , I thought it wouldn't be too difficult to improve on it.
But it's been a tricky business. The one thing that I knew I wanted were disk brakes, since much of my cycling is done in the rain, and disk brakes should have a bit more stopping power since they are in the middle of the wheel and out of the puddles. So off I went looking at bikes. I quickly got a feel for how the components improve as you spend more money. And I quickly discovered that the disk brakes add a lot to the cost.
After a fair bit of looking around all the local bike shops, I very nearly bought a bike a couple of weeks ago, but it was a bit more expensive than I had expected, and to be honest I didn't like the colour (dark red). When I went back 2 days later, the last one had been sold earlier that morning. So I have been back round the bike shops a few times, and spent a lot of time looking at them on the internet. I very nearly bought one online at the start  of the week, but I didn't really want to buy one over the internet – I wanted to sit on it, and have a bit of a ride on it, and be able to take it back to the shop if bits fell off!
And finally today I found one I like, and put down a deposit on it. The picture isn't of my actual bike, as I have to wait for a fresh delivery, but it's the one I had a ride on to try it out.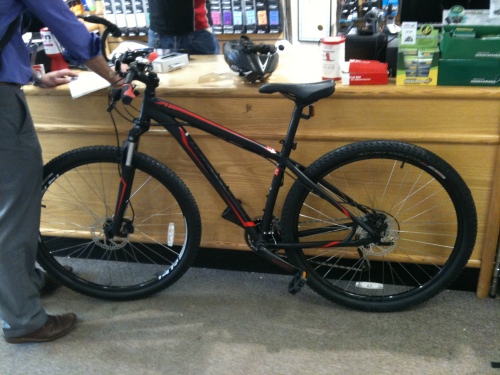 So it's a Specialized Hard Rock Sport (2013 edition no less), from McConvey Cycles just down the road.
I'm all pleased 🙂
Tags: Cycling