Tokyo day two and three
The good news is that I haven't had to wear a face mask since the first day. It was noted that Japanese people don't have noses like mine, so apparently it didn't suit me well!
Didn't do a lot on Thursday – went for a walk in the morning, got a bit tired in the afternoon with jet lag and sat around, then had great meal in Akihabara in the evening. But that's okay – that's jet lag and sniffles for you.
Yesterday I had a long walk along the river that runs by my friends house. I walked about 9 miles, mostly along the river but with diversions where there were no riverside paths, and distractions in the odd shop. Didn't walk any dogs – I did see plenty walking by the river, but was too shy to take any pictures of them. The river has a great view of the Tokyo Sky Tree, which as I always say looks like a massive space weapon. And therefore I think it's great. I'll be going up that at some stage this week or next 🙂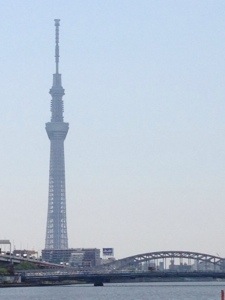 We had Chinese for tea, and I loved the Japanese interpretation of sweet and sour chicken – Karen tells me they use a dark vinegar which is more like balsamic, which makes a wonderful dark sauce that looks nothing like the bright orange sauce we get at home.
Quiet night in with a DVD, and fortunately my legs still work!