Barcelona Day 1
The first major surprise of my trip day was on the plane – I bought something to eat on an Easyjet flight, and found it to be both enjoyable and good value! What happened there! Am I in some kind of weird alternate universe? Anyway, I can definitely recommend the "Feel Good scrumptious and yummy box", which for 4 quid kept me going for a few hours, and was even pretty healthy!
Once again I was reminded just how good The Walking Dead is, my own personal in-flight movie on my android tablet. Yes, it is gory and unpleasant in places, but it's great TV.
Arrived to find the Barcelona weather much better than expected, which was a nice surprise. So jumper off and short-sleeved shirt on. A straightforward and cheap (3.60€) journey on the train took me to Sants station, and if I had taken the right exit, the hotel would have been right in front of me. Of course I used the wrong exit, but the hotel was still very easy to get to. My room is on the 15th floor, and has a splendid view over the city.
But it was only when I left the hotel when I realised how good it is – just a short walk and I was at some splendid buildings, towers and fountains which turned out to be the Montjuic area of the city. Really beautiful architecture, much of which dates to 1929 and a grand exhibition (I will resist slagging comparisons with the millennium dome, as I am secretly quite fond of it).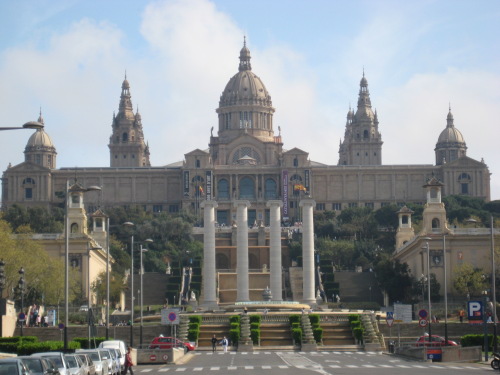 Behind that, the Olympic Park, from 1992. Behind that, the cemetery, which I thought might be a castle. It wasn't, but it was still very interesting – cemeteries are multi-story here, and consist of stretches of wall with a niche per person, above 5 stories high. Which is why I thought they were castle walls. Then to the actual castle, where it started to get a bit cooler, and I started to worry about rain. But was quite pleased to find that I could see my hotel from there, as it
is a 23 story tower with a neon sign on the top!
Then a dander back towards the hotel, with a few stops to select a restaurant for dinner. And it was really excellent! I ate in the Filigrana restaurant, where they kindly gave me the lunchtime set menu, even though it was nearly 9:00, as I hadn't realised it was a lunch menu. Yes, what originally attracted me was the delightfully poor translation of the "candied bacon with outbreaks of spring", but it really was a lovely meal – 3 1/2 courses and sparkling water with very attentive service (in perfect English) for €30 including tip. A great spot that deserves to be busier. And accompanied by a fresh new book on my kindle.
A great start to my trip!
Tags: Holiday