Doctor Who News
Well, according to the news (Radio 4, as well as the BBC News web site), the time has finally come, and Russell T Davies is hanging up his sonic screwdriver and leaving Doctor Who.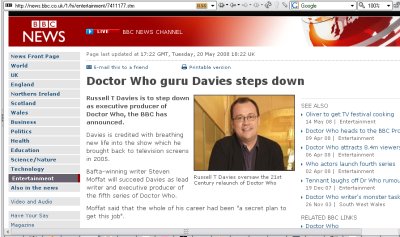 This was always inevitable for someone who has such a high profile television career (for example listed here), who is bound to have turned down a lot of other jobs over the past 5 years.
So lets have a ponder about his contribution:
Let's face it, he got Doctor Who back onto television when it had been basically written off after the failed revival of 1996. And not only did he get it back on tv, but he made it successful. That's a phenomenal achievement for something which had some fairly low expectations. The fact that he was a respected figure in the tv industry meant that the BBC trusted him with a decent slide of cash to make the first series. And the fact that he loved with the show with the passion of a fan meant that he was really excited about, and wanted it to succeed not for the good of his career, but because he just loved it. For that I'd buy him a drink any day.
But I have to be honest, I don't think that the episodes that he himself has written have been the best. I get the feeling that he works best as a creative visionary, but that other people are better at the actual nuts and bolts of writing stories. If you have an honest look at an episode list (such as this one), I think the best episodes in each season were those written by other people. And he has written some of the worst ones (notably Love and Monsters in series two).
I think we can admit that he is a bit obsessed with sex. This has obviously come out (pun intended) more fully in Torchwood, but it has also become a feature of Doctore Who during his reign. To be honest, I can live without that.
He has tended to ground Doctor Who much more than in the past, in both ways. There have been more earth-based episodes then before, which is aimed at making it a bit more accessible, and real for people. I can understand that. But he also created characters with much more baggage than usual, with families to worry about and come back to. That's probably a bit more realistic, but at times there was a danger of drifting out of sci fi into soap.
He'll be a hard act to follow, having produced some great Saturday evening television, and having set high expectations for the series going forward.
But the good news is that Stephen Moffat has written some of the best episodes of the new series, and he has been a fan since childhood as well, so I guess he's as safe a pair of hands as we good hope for.
Tags: Dr Who